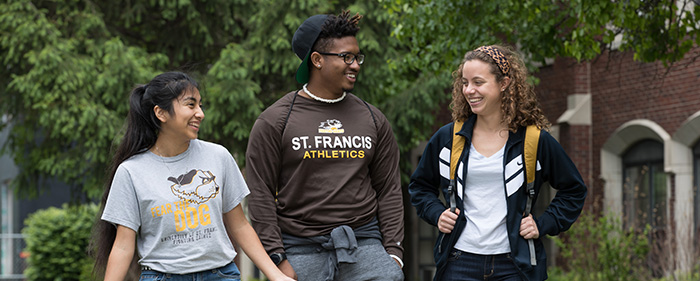 Welcome to Planned Giving
Making a planned gift is a wonderful way to show your support and appreciation for University of St. Francis and its mission while accommodating your own personal, financial, estate-planning, and philanthropic goals. With smart planning, you may actually increase the size of your estate and/or reduce the tax burden on your heirs. Just as important, you will know that you have made a meaningful contribution to USF.
We recommend that you familiarize yourself with various gift options by exploring How to Give and What to Give. Then compare gift options and/or calculate how these gifts could work for you. And of course, please contact us for assistance or to discuss your personal situation and objectives.
Taking your current life stage into account is very helpful when planning your gift to USF.
Read More »
Use our interactive tool to determine which gift is right for you based on your goals and desired outcomes.
Read More »
Three Oaks Legacy Society
The Three Oaks Legacy Society was created to honor those who establish a legacy at the University of St. Francis through wills, estates, and other planned gifts. These legacy gifts, often the largest to the university, offer financial stability and ensure that countless students will benefit from the gift for years to come.
Benefits to being a member of the Three Oaks Legacy Society include:
The satisfaction of knowing that your legacy will provide much needed support for the University of St. Francis and its students.
A special certificate, which can be proudly displayed at home or at the office.
Invitation to the university's special USF Society events.
Special recognition and listing in the annual Honor Roll of Donors (unless anonymity is requested).
If you have included the University of St. Francis in your estate plan or are interested in doing so, we would be grateful to know of your intentions. This will provide the university the opportunity to thank you in person and to engage in strategic financial planning.
To learn more about how you can leave a legacy at the University of St. Francis that will positively affect the lives of future generations of students, call Lisa Sampalis at 815-740-5065.
© Pentera, Inc. Planned giving content. All rights reserved.
Disclaimer